Giscours, Margaux 2019
Posted by Admin | Tue 16 Jun 2020 | En Primeur
GISCOURS, MARGAUX - £420.00 PER 12 BOTT IB
ZR 17- JS 96-97; JA 94
A very decent Giscours! Cabernet Sauvignon, which was harvested very late in 2019 makes 65% of the final blend. Very classic left bank. Reminds me of the old "pre-Parkerise" style of wine making here. Black fruit dominates with solid core of well structured tannins and tobacco/ dark wood in the finish. Touch stalky which complements it very well. This will need 5-6 years and will drink well for further 20. Very solid and classic. Happy to give this 17- and expect to improve once bottled; and it looks like a very decent deal at £420.00 per 12 bott ib considering that it is priced below almost all other physical vintages of Giscours. If you are after a classic Claret, this could be the one to go for at sub £50. It might even have some decent growth potential if you take into account that James Sucklng has given it a rating of 96-97.
Lots of deep blue fruit with blackberries and grape skins, as well as tar and asphalt. Lead, too. It's full-bodied, yet very tight with powerful, defined tannins, surrounded by attractive ripe fruit. Serious. Reminds me of the excellent 1975. A blend of 65% cabernet sauvignon and 35% merlot. 96/97 James Suckling, June 2020.
This is a serious Giscours, with medium intensity violet-edged ruby colour. High aromatics on the nose with cumin and cloves, followed by black cherry and cassis fruits that do a good job of filling the palate, and a cooling menthol finish as the tannins close in. Enjoyable overall, succulent yet with precision. Harvest lasted for an entire month, from September 11 to October 12, the longest ever at the estate and a reflection of more precise plot-by-plot work, with vines separated according to age and terroir. Thomas Duclos is consultant here as of the 2019 vintage. A yield of 44hl/ha. Drinking Window 2028 - 2044: 94 - Jane Anson.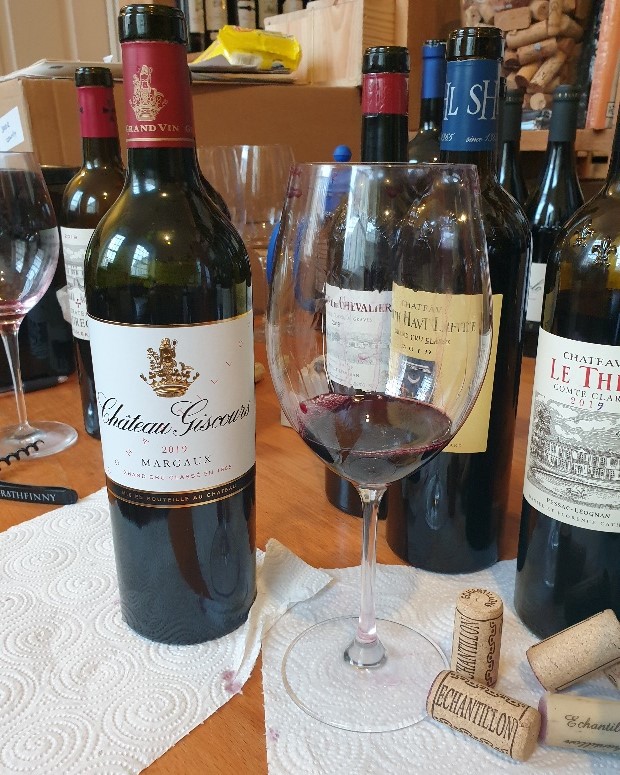 Follow us for latest En Primeur 2019 tasting notes.